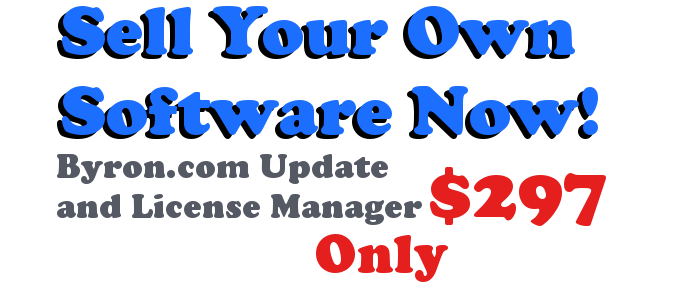 ByronServices.com Update and License Manager
ANNOUNCING!!!  BETA RELEASE
Manage and RUN Your WordPress Plugin Software Development Business with ByronServices.com Update and License Manager!
JUST LIKE WE DO!  This is exactly the same software running our business!
Make the process of selling, licensing, updating and managing your software KISS simple with this management system.
This plugin works with Easy Digital Downloads to enable your customers to buy download products from you; in this case WordPress plugins.
Code inside

ByronServices.com Update and License Manager

integrates with the purchase mechanism to create software licenses using Software License Manager to create a license and attach it to the Purchase Receipt sent to your customer.
To participate in this Beta Release, you can use a special discount code to purchase this product as a significant discount — available ONLY during the BETA.
Beta Discount Code:  BETA-Updater
for a limited-time-only savings of $100
Free updates for one year.
This code works with the base version of Software License Manager but recommends our forked version to support license update functions.
We also are setting up an affiliate program if you want to generate income with sales of our products.
Visit www.byronservices.com/affiliates/ to apply!
Free updates for one year.
Renewals
$97 per year

Prices Subject to Change Without Notice