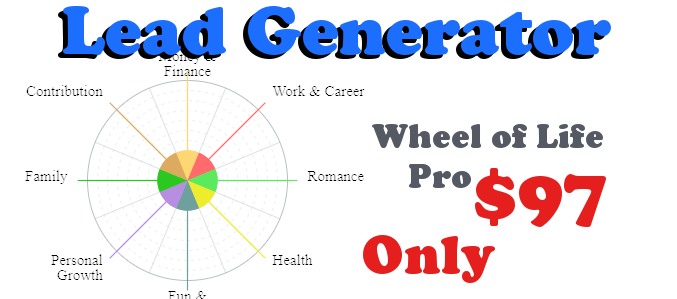 Wheel of Life Pro WordPress Plugin
Buy It Now
Wheel of Life Pro is your Lead Generator!
Wheel of Life Pro adds a Lead Generator option to your coaching business. Capture potential client's name and email address in your autoresponder email list. Add lead generator capture capabilities to your already useful and reliable Wheel of Life standard edition!
You already understand how valuable a lead generator is for your business. Wheel of Life Pro is an essential marketing tool for your coaching business!
You've already seen the concept of the Wheel of Life or Circle of Life in your coaching business. You might use one already. You give your clients a print out to manually chart personal progress from week to week or month to month.
But you haven't got Wheel of Life Pro on your website…. You need Wheel of Life Pro to give your life coaching business that edge nobody else has. Get yours now!
Those manual tracking instruments and exercises bring value. Naturally you know they're important. You always recommend effective tools to your clients!
…but some of your clients don't seem to do their homework and neglect to create their Wheel of Life visualizing tool. It's too hard.
Take away their excuses. Make it so easy that even a child can do it!
Give your clients the ability to create their own Wheel of Life Pro tracking instrument with the click of a button!
Wheel of Life Pro is a tool used by coaches across the world to help their clients and customers visualize their life progress. If you'd rather use the concept of Circle of Life, the settings are configurable for that too.
Because a picture is easily worth 1000 words. Now compatible with Contact Console for even better customer integration!
See your own progress and try out the plugin for yourself right here!
Wheel of Life Pro plugin is a tool to help your clients create more balance and success in their life. Wheel of Life Pro plugin is useful in your life coaching practice to enable visitors to your WordPress website to visually see and track their own progress while working with you as their coach.
If for some reason you don't think you need a Lead Generator but you still want the ease and simplicity of the Wheel of Life instrument on your WordPress website, get Wheel of Life standard edition.
Use Wheel of Life Pro to create as many customized Wheel of Life pages on one WordPress website as you need!
Free updates for one year.
Renewals
$77 per year

Prices Subject to Change Without Notice