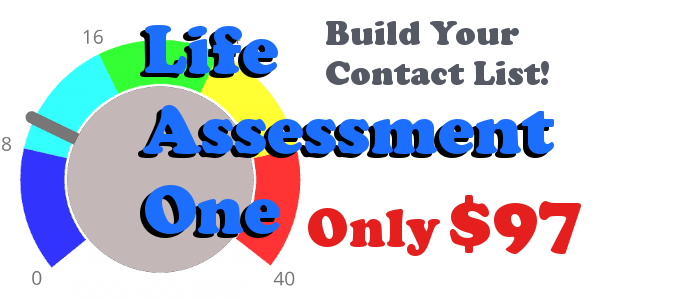 Buy It Now
Life Assessment One plugin in action:
Now included in the Life Assessment One plugin is a fully initialized sample that includes graphical output to your user. Based on the PSS (Perceived Stress Scale) the Stress Test provided can be used as is, or modified to meet your needs. To see this newly configured option, take a look at this sample
Life Assessment One is a helpful tool that gives you the ability to do several things:
Help your potential (or current) client understand the value you bring to their life with your products and programs.
Create a customized report for your potential (or current) client. This most often would be used for a coaching lead generator but can be customized for other uses.
Add new contacts to your autoresponder so you can keep in touch.
Provide valuable information to your potential (and actual) clients in assessment format.
Collect information from your client
Provide helpful recommendations to your client
Offer products and / or services to your client
Why do you want this plugin on your website?
Imagine your potential client visiting your website. They don't know you yet, but they're curious about what you offer. They land on your Life Assessment page and answer some simple questions. At the end of the Life Assessment, asks for their Name (required), their Email Address (required) and their Phone Number (optional) so you can send them their Life Assessment results. You can configure a really helpful Call to Action that appears in the report and also can appear on the Thank You page of the assessment.
The potential (or current) client receives your helpful recommendations and begins to form a connection with your products, programs and services. Imagine how useful it will be to have your potential clients added to your Autoresponder so you can continue to communicate with them. Can you see how valuable this capability is?
Life Shift can be thought of as a series of tests. We go from one test to another learning and growing from our mistakes. Sometimes we learn good things. Other times we learn things we don't prefer and would rather avoid. Remember the multiple choice tests you took going through school? Some people loved multiple choice quizzes, others hated them. One thing to remember is that a multiple choice quiz gives you the option of several different answers. Each answer can help you clarify the value of the question.
Never forget, The Power of the Answer Depends on The Power of the Question
We like assessments so much that we made it available to you as well.
Use Life Assessment One to create as many assessments on one WordPress website as you need! Now compatible with Contact Console for even better customer integration.
Get Life Assessment One for your own WordPress site NOW!
Free updates for one year.
Renewals
$77 per year

Prices Subject to Change Without Notice