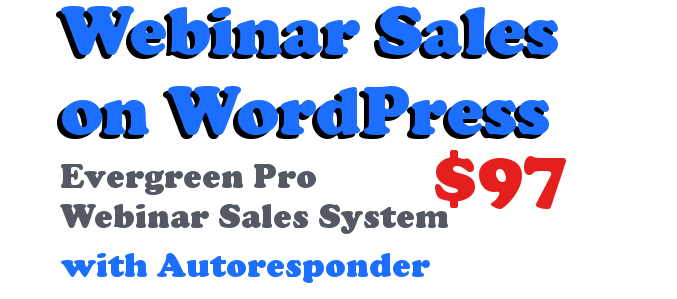 Evergreen Pro Webinar Sales System
[ewas]
$97.00
It's clear. You see the power of video everywhere. Video grabs attention. It makes people pay attention. You want to integrate webinars into your video marketing presentations, but signing up for those video hosting platforms seems so expensive. You want to put video webinars on your site without paying for it over and over again. What if you could do your own webinar and host it on your own WordPress website?
You CAN!
Evergreen Pro Webinar Sales System gives you the ability to integrate your own webinar into your WordPress website. Set up your campaign to run only one time, or schedule it to repeat as often as you want. Up to five showings each day can be configured!
Video can be stored and presented from YouTube or other video sources.
A configurable offer link can be displayed and can also be delayed to appear at an exact time during the webinar presentation. An optional countdown urgency timer can also be shown at a configurable time during the webinar presentation to add incentive for webinar attendees to take action on your offer.
Evergreen Pro Webinar Sales System is right for You!:
Multiple presentations with separate configuration settings.
Uses Your WordPress timezone.
You have the plugin on your own WordPress website.
You control whether you receive updates for your site.
You control when changes are made to your site.
You are in charge of what happens to your site!
Enhanced Marketing with Autoresponder integration!
Evergreen Pro Webinar Sales System is also integrated with several Autoresponder options.
GetResponse.com MailChimp.com and Custom Html options make Evergreen Pro Automated Greeting System useful in collecting contact information from your web visitors and getting them signed up for your marketing mailing lists.
Free updates for one year.
Renewals
$77 per year

Prices Subject to Change Without Notice