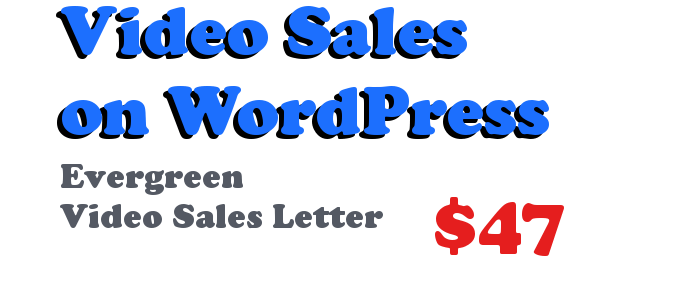 Evergreen Video Sales Letter
[evsl]
$47.00
You understand the power of a sales letter and you probably have seen at least one video sales letter. Most sales letters that include video are presented on hosted platforms that include monthly subscription fees.
Evergreen Video Sales Letter avoids the subscription model offering clients and customers access to the power of video sales letters without the complication of ongoing monthly fees (See the Note on Subscriptions in the Growth Plans Section).
A video sales letter is created for one purpose. Each video presented in a sequence leads up to an offer which your ideal customer or client will buy or an action they will take.
Evergreen Video Sales Letter enables you to configure the start and end day for each of four videos. Commonly, each video will be presented for one week and the entire sequence will take four weeks.
A configurable offer link can be displayed during the last of the four videos with an optional countdown urgency timer to add incentive for web visitors to take action on your offer.
Evergreen Video Sales Letter is right for You!:
Uses Your WordPress time zone.
You have the plugin on your own WordPress website.
You control whether you receive updates for your site.
You control when changes are made to your site.
You are in charge of what happens to your site!
Free updates for one year.
Renewals
$37 per year

Prices Subject to Change Without Notice