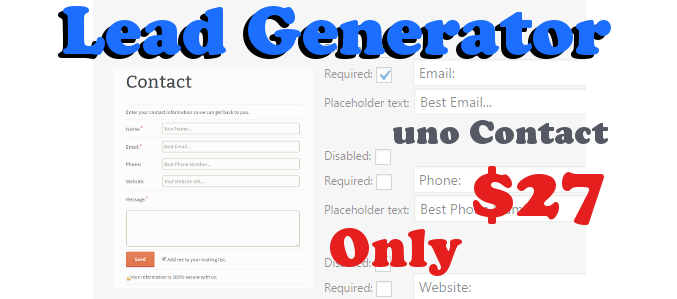 The Best Contact Form for YOU because it's simple and it works.
You know all those other forms you've tried.  404 errors and stupid crazy frustration…
Just FIX it.  uno Contact is the one you need to end that frustration and aggravation.
One day I worked on my website.  It was almost a whole day of my time.  I noticed that the site needed a contact form.  It wasn't clear why my older contact form disappeared, but for some reason an earlier reorganization of my site removed the old contact page.  Hmmmm
Easy, right?  Just add it back in.  So…
I created the page and put the contact form shortcode on the new page.  Easy yes!
But…then I tried to use the form.  I got nothing.
When I took a look at the errors happening, I discovered 404 errors.  The plugin was doing a submit back to the same page, but WordPress was rejecting the new data.
It's bad enough that something as simple as a plugin breaks on your website…but remember, THIS is your contact form.  People judge the quality of your site, the quality of your services, the quality of your products…and in many cases, the quality of YOU based on their ability to contact you….and they just got rejected.
I tried several different contact form plugins — they all failed.
So, I decided to fix the problem once and forever.  This simple plugin uno Contact is AJAX enabled to directly call the plugin code and submit your client and potential client communication directly to your email.  No waiting … or digging for WordPress fixes to figure out what is going on.
The coolest thing is, this plugin can coexist with other form entries on the same page if that is necessary for your site.
Stop hoping it will work.  Know for certain that your contact form is getting processed!
So Simple It Just Works.
We didn't design this plugin to be massively customizable.  We built it to work.
You want simple
Right?
This is Simple
This is Simply Elegant.
This plugin is for YOU!
Get it Now
Stop those stupid contact form headaches FAST.
NOW, uno Contact integrates with your autoresponder to optionally add people who contact you to your autoresponder list.
Have you ever seen a contact form plugin that includes autoresponder capabilities ?
WOW
Free Plugin Updates for One Year!
Renewals
$17 per year

Prices Subject to Change Without Notice